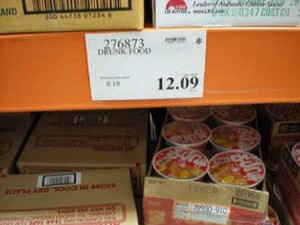 Did you hear about the prank pulled off at Costco a few months back?  A guy printed/created a bunch of fake price tags with funny names on them and swapped them at his local Costco.  Sounds like other people around the country joined him as well.  I didn't get a chance to see the video, but I hear it was really well done.  Costco's lawyers contacted the site and needless to say, the video was removed. The limited photographic evidence is pretty funny though.  Here is the statement Jim Sinegal released to employees:
"Attention: There will be companywide audit of ALL signs. This will be done immediately! There are an unknown number of people forging our items signs! Our Legal Department has been notified and action is being pursued at this time. All signs will be audited daily until further notice. It is unfortunate that this attempt to defraud our members in the guise of a prank will result in needless hours being spent trying to prevent our Members being lied too. Price Altering and Merchandise Falsification are crimes! The perpetrators will be contacted by Legal. Please remember to assist any Member who may be misled by these fraudulent signs. Thank you, Jim Sinegal."
Here are a few more photos.