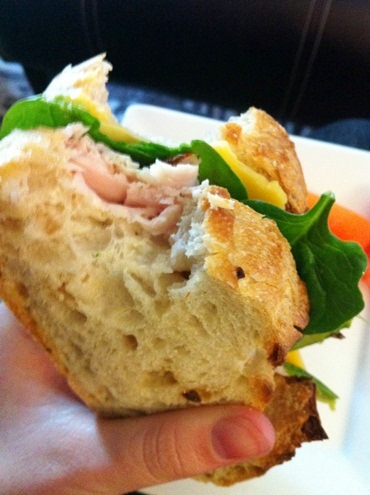 Thanks to Costco Cuisine for their recent recommendation! One of the reasons we love Costco is for their food — it's not just gallon tubs of mayo. This weekend, my spouse and I enjoyed some pretty gourmet sandwiches that used ingredients from our favorite warehouse store.
Bread: Panné Provincio all natural roasted garlic loaf, sliced and lightly toasted
Meat: Columbus herb turkey breast
Cheese: Gouda wedge (unknown brand) for my spouse and Tillamok medium sharp cheddar for me
Toppings: Organic baby spinach and avocado, both from the Costco produce section.
Just recently we started buying this bread, and we love it. It's usually still warm on the shelf and very fresh. And surprisingly a household of two can finish it before it goes stale. What are your favorite sandwich ingredients from Costco?