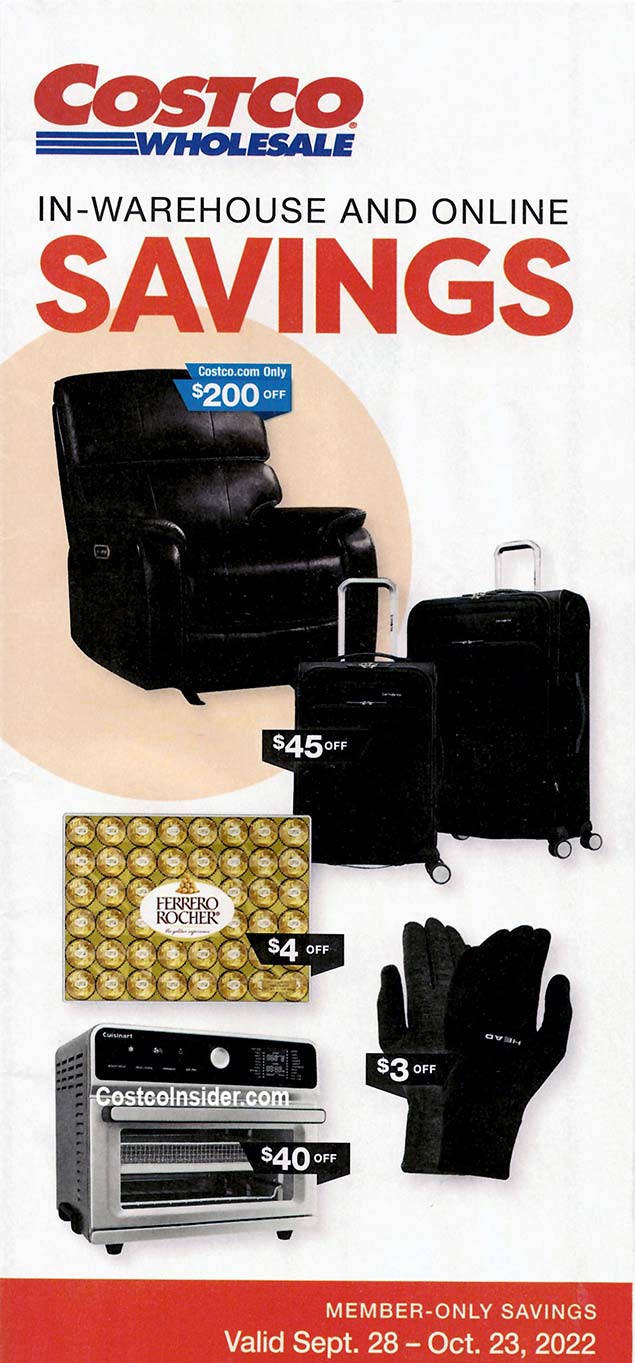 We're happy to bring you the upcoming Costco October 2022 Coupon Book. The dates for this months Costco coupons are September 28th through October 23rd. To reveal the coupons simply click the link above and it will take you right to them. The September Coupon Book is still valid through September 25th, so make sure to catch all the deals in that one before it ends! There will also be a set of Hot Buys coupons in the middle of October. If you want to get notified as soon as we release the November 2022 Coupon Book then make sure to sign up for our email list, follow us on Instagram and Like us on Facebook!
The Costco October 2022 Coupon Book is definitely making us hungry! We can't wait to pick up some Realgood Foods Bacon Wrapped Stuffed Chicken! How delicious does that sound? At $3.50 off it's a great price for a box of 6. One of our favorite cheeses is on sale for $3.30 off per package — the Kerrygold Dubliner Cheese. The large candy bars are on sale just in time for Halloween. Hershey's Chocolate Candy Assortment Variety Pack is $7 off! We are big fans of Waterloo Sparkling Water and will pick up another pack at $2.30 off. The Hisense 65″ Class A65H 4K UHD LED LCD TV is a great deal! We also hear it's eligible for a $100 rebate from Hisense, making it an even better deal! This months tire coupon is Michelin again with $150 off a set of 4 tires.
If you've read this far and you can't get the link above to work then you can click this link to go directly to the first page of the slideshow for the October 2022 Costco Coupon Book. Leave a comment and let us know what you're going to pick up during this sale!
Here's a few of the deals in the Costco October 2022 Coupon Book:
Realgood Foods Bacon Wrapped Stuffed Chicken – Three Cheese 6ct $3.50 off
CJ Foods bibigo Chicken & Cilantro Mini Wontons $3 off
Kerrygold Dubliner Cheese $3.30 off per package
Waterloo Sparkling Water $2.30 off
Hershey's Chocolate Candy Assortment $7 off
Belkin Boost Charge Pro 3-in-1 Wireless Charger with MagSafe 15W $119.99 – $30 off = $89.99
Hisense 65″ Class – A65H Series – 4K UHD LED LCD TV $349.99
Kirkland Signature Diapers $9.50 off