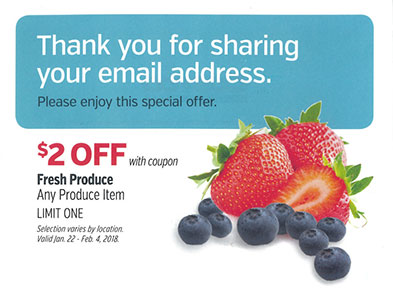 Costco has started a new program we're calling Member Give Back Coupons. These coupons are being handed out at the warehouse in exchange for your email address. The current member give back coupon being handed out will get you $2 off fresh produce and the dates run from January 22nd through February 4th. We believe most warehouses will have a laptop setup ready to take your information. They'll scan your membership card and then you will type in your email address and that's it. Warehouses that don't have a laptop will have a small paper form you'll fill out with your Name, membership number, and email address. The coupon should only work once per membership and once per promotion.
Where do I find the coupons?
What you want to look for is a table with an employee. In some warehouses it will be near the entrance, and in others it will be near the produce. They will be asking you if you'd like a coupon for $2 off. In our warehouse it was not that noticeable, so make sure to be on the lookout on your next shopping trip!
Why is Costco giving out coupons?
Costco wants to get more members email addresses. They figure a $2 off coupon is enough to entice members to spend the time updating their information. Costco wants to move more into digital mailing and less print mailing so it can save money and the environment. If they can stop handing out flyers at the door with special coupons (such as Black Friday ad, Super Bowl ad, etc…) they can save quite a bit of money on printing costs. There are also a lot of new things that become available as part of your membership that Costco has no way to easily tell its membership about. That could include a new Executive Membership benefit, a new benefit to the Costco credit card, information on when Kirkland Signature Golf Balls are coming back in stock, the fact that they're now offering 2% cash back on Costco Travel, and more.
What is the downside to me?
The only downside is that it will take about 1 minute of your time and that you may get a few more emails a month. However, if Costco already has your email address it's no big deal. You'll still get the coupon despite them having it already and you won't be getting any extra emails.
What will be in the emails?
Here are examples of what members will receive by providing their email address:
Hot buy promotions
Limited quantity daily deals
Special events
Unique items
Digital version of the coupon book
Recall notices
Information about your warehouse
New items
Employees are not eligible for this promotion. What do you think? Is this enough to get you to give Costco your email address?