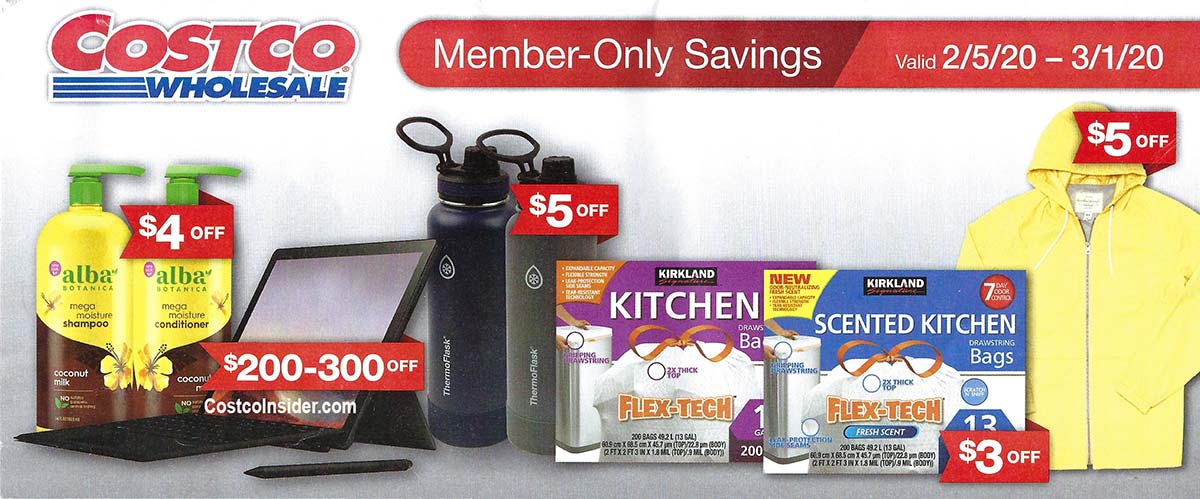 Once again we bring you the first look at the February 2020 Costco Coupon Book! For this month the February 2020 Costco coupons run from February 5th through March 1st. When you click the link above you'll be taken right to the images where you'll be able to click on them to enlarge them if you'd like. The Super Bowl TV Deals are also running right now and end on February 2nd, so make sure to take a look at all the big game coupons too. Just like last month, the February Costco Coupon Book comes in at 23 pages long. If you want to be notified as soon as we release the next coupon book make sure to sign up for our email list, Like us on Facebook or Follow us on Instagram.
The February 2020 Costco Coupon Book has quite a diverse selection of items. The first thing to catch our eye right on the cover is the new Kirkland Signature Scented Kitchen trash bags. We're definitely going to give them a try at $3 off. Huggies diapers are only on sale about twice per year, so make sure to stock up on those if you have little ones. We were surprised by the number of mattresses in the coupon book and would recommend the Molecule 1 Memory Foam mattress that is $150 off. We're also excited to see Robert Irvine's Fit Crunch Chocolate Peanut Butter Whey Protein Bars on sale for $5 off. For the second month in a row the Michelin tires are on sale for $110 off.
If you're still reading and having a hard time finding the coupon book there are two things to check. First, make sure you're on the Costco February 2020 Coupon Book page. Secondly, click the link in the first sentence, which is titled February 2020 Costco Coupon Book. Lastly, if that doesn't work you can go directly to page 1 here. Who else is going to try the new Kirkland Signature Scented Kitchen bags? What else stands out to you?