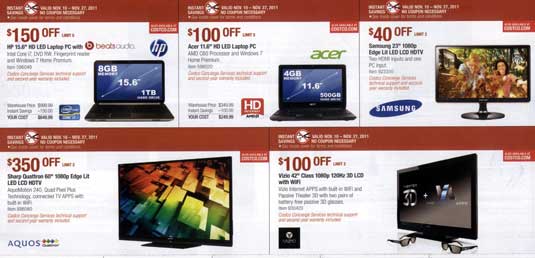 The November 2011 Costco coupon book is now available for your viewing pleasure. This link will allow you to look at it online or download it from my google docs. This book runs from November 10th through November 27th, so it is valid over Black Friday. There will be another coupon book valid for just Black Friday weekend that I will get to you as soon as it is available. Costco is trying something new here, putting the instant savings (no coupon required) first, which they never do. Notable items include the Kirkland diapers, the baby wipes, and the pita chips are a great value. For the first time in a very long time, I don't think there is anything in this coupon book that I will be picking up. One user suggested they're saving the best deals for Black Friday, and I hope they're right. The tires are back to Bridgestone, and they are having the special deal where they give you $30 off the installation fee as well, saving you $100 on a set of 4 tires.
Remember, at most locations you can grab a book at your membership counter if you never got it mailed to you and at some locations the cashier will have the coupon there and automatically scan it for you. I  heard they are getting more strict on this though. Perhaps to encourage the new coupon email signup program. Hope you enjoy the book, a list of items is after the break.
Page 1:
$150 off HP 15.6″ HD LED Laptop PC
$100 off Acer 11.6″ HD LED Laptop PC
$40 off Samsung 23″ 1080p Edge Lit LED LCD HDTV
$350 off Sharp Quattron 60″ 1080p Edge Lit LED LCD HDTV
$100 off Vizio 42″ Class 1080p 120Hz 3D LCD with WiFi
Page 2:
$30 off Olympus VR-330 Compact Digital Camera
Up to $370 off T-Mobile HTC, Sensation 4G
Up to $70 off Verizon Droid Bionic by Motorola
Up to $49.99 off AT&T LG Thrill 4G
$20 off WD My Passport SE 1TB Portable Hard Drive
$20 off Western Digital My Book Essential 3TB External Hard Drive
Pages 3 – 14:
Coming soon, look at the link above in the meantime!