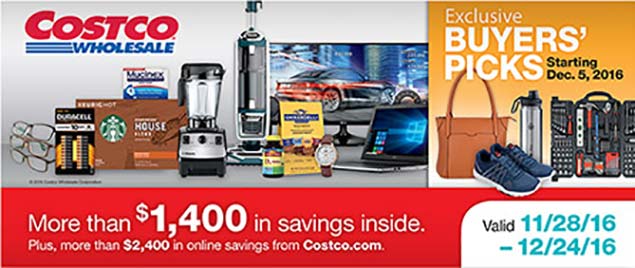 We just posted the December 2016 Costco coupon book if you'd like to take an early look. Clicking the link above will bring you right to all the coupons so you can view them. The December coupon book will run from November 28th through December 24th. There are many interesting elements to this months coupon book. First of all, it overlaps for the first day with the Black Friday weekend coupons and the Black Friday week 2 coupons. Secondly, it starts a day after the November coupon book ends, so there is no gap between. Lastly, the content is quite different from the usual Costco coupon book. If you'd like to be notified as soon as we post the latest coupons you can sign up for our email list, or Like us on Facebook!
The feedback we've received from Costco fans is that the December coupon book is one of the worst in at least 8 years! There are only three food items in the whole coupon book. None of the deals stand out as being of great value. We will recommend a few products that you might want to take a closer look at though. The Vitamix is a great product from our experience. The Philips Norelco Trimmer is also a good product. The LED Shop Lights will be a good value at $10 off as well. This coupon book is much shorter than the standard Costco coupon book but we hope that it is because of the Holidays. The tire coupon is once again Bridgestone.
Clicking the link at the top of this post will allow you to see the coupons. We've also posted a list of items within the coupon book and their prices. What do you think? When was the last time you saw a coupon book similar to this one??