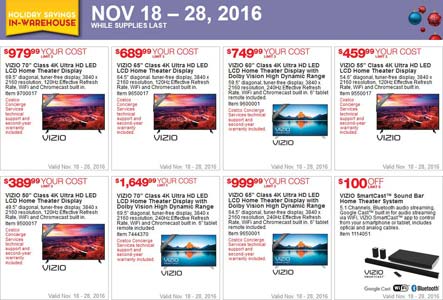 We've just posted the Costco Black Friday 2016 Week 2 coupons and prices. They will run from November 18th through the 28th. In order to see the coupons you need to follow the link above, which will take you directly to them. Also of note, there are also some deals that will run only through the 23rd and some online ones that run through the 24th. We've also posted the Week 1 Costco Black Friday 2016 coupons if you'd like to see those. The Black Friday weekend only coupons will run from November 25th through the 28th and also are available for viewing.
The second week of Costco Black Friday 2016 coupons features a lot of deals. The first couple of pages are all TV's, and there a quite a few good deals throughout. The tire coupon is good for both Bridgestone and Michelin, which only happens once a year. If you've never tried the Sanders Dark Chocolate Sea Salt Caramels they're quite amazing and at $6.49 after coupon they're a great price.
Which items on sale are you most intrigued by? Any of the TVs stand out to you as a great deal? Remember, you have to click the link at the top of the post page to see the coupons and their original prices.