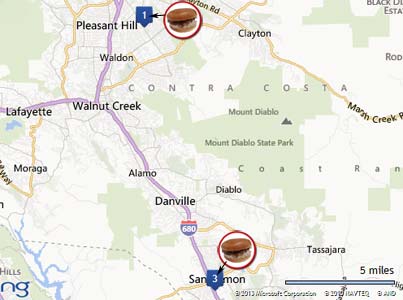 These Costco locations are confirmed to have the new BBQ beef brisket sandwich in their food courts:
California
Burbank, CA
Citrus Heights, CA
Concord, CA
Danville, CA
Gilroy, CA
Huntington Beach, CA
Laguna Niguel, CA (Cabot Rd.)
Merced, CA
Sacramento, CA
Georgia
Hawaii
Honolulu, HI (Iwilei)
Kailua-Kona, HI
Illinois
Bloomingdale, IL
Lake in the Hills, IL
Kansas
Florida
Michigan
Ann Arbor, MI (Pittsfield)
Auburn Hills, MI
Missouri
Ohio
Texas
Washington
Burlington, WA
Covington, WA
Tacoma, WA
Wisconsin
Grafton, WI
Pewaukee, WI
Sun Prairie, WI
Does your Costco have the sandwich and it's not listed? Leave a comment letting us know!
Costco BBQ Beef Brisket Sandwich Nutrition Facts and Calories
Costco BBQ Beef Brisket Sandwich Reviews    <— Coming Soon!