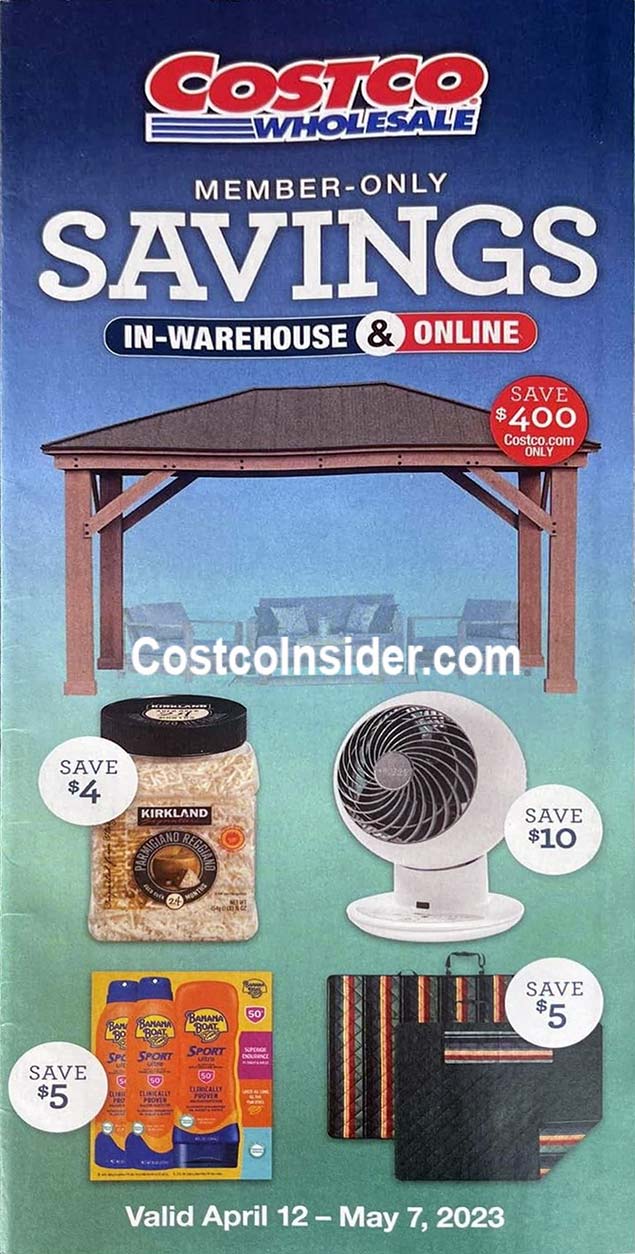 We've just released the upcoming Costco April 2023 Coupon Book. The April 2023 Costco coupons are valid from April 12th through May 7th. To display the coupons just click the link above and you will be taken right to them. While you wait for April 12th there's also the April 2023 Hot Buys coupons that are valid now through April 9th. If you want to get notified as soon as we release the upcoming Costco May 2023 Coupon Book then make sure to sign up for our email list, follow us on Instagram and Like us on Facebook!
We're definitely excited for some of the deals in the Costco April 2023 Coupon Book! First of all, we love the Greenworks products, so are very excited to see them on sale again. We reviewed the 80v 21″ Self-Propelled Mower and love using it every week! At $100 off it's really a great deal! Next, the Greenworks Pro 80v Jet Blower is very powerful and a great buy at $40 off. We also own the Greenworks 80v 16″ Front Mount Trimmer and are big fans. Another great deal is the Kirkland Signature Motor Oil at $8 off. Great motor oil does not get any less inexpensive than this sale. We haven't tried the TRUBAR Plant Based Protein Bars, but we love the packaging and flavors offered. At $6 off we are going to be extremely tempted to try them out. This months official tire coupon is Michelin for $150 off a set of 4 tires.
IF you've scrolled this far and can't get the above link to work you can also click this link to go directly to the first page of the slideshow for the April 2023 Costco Coupon Book. What are your thoughts on this months Costco coupon book? Some say the coupons are finally getting better after 2 years of mediocre coupon books. Do you agree? Leave a comment and let us know!
Here's a few of the deals in the Costco April 2023 Coupon Book:
Keurig 100-count K-Cup Pods $7.50 off
Keurig K-Supreme SE $40 off
StriVectin Super-C Dark Circle Brightening Eye Serum $19 off
StriVectin Advanced Retinol $28 off
KidsHeadquarters 4-pc Pajama Sets $4 off
Olay Body Wash $4.50 off
Pantene Shampoo and Conditioner $3 off
Cremo Barber Grade Shave Kit $5 off
Refresh Eye Drops $4.50 off
Banana Boat Sport Sunscreen $5 off
Dove Moisturizing Beauty Bars $4 off
Dove Cool Essentials Dry Spray Deodorant 3pk $3 off
Dove Body Wash $3.50 off
Scotts Green Max Lawn Food $15 off
Miracle-Gro Organic Choice Moisture Control Potting Mix $2.20 off
Miracle-Gro Shake 'n Feed All Purpose Plant Food $5 off
Oxi Clean $5.60 off
Philips Sonicare OptimalClean 2-handle pack $99.99 – $25 off = $74.99
Neutrogena Sunscreen $4.50 off
Colgate Advanced Whitening Toothpaste 5pk $6 off
Siete Grain Free Sea Salt Tortilla Chips $2.10 off
Pure Alaska Omega Salmon Oil $5 off
Kirkland Signature Daily Multi or Mature Multi Vitamin $3 off
Trunature Lutein & Zeaxanthin $4 off
Kirkland Signature Triple Action Joint Health $5 off
Allegra Allergy $8 off
Nasacort Allergy $8 off
Xyzal Allergy $8 off
Aveeno Daily Moisturizing Lotion $5 off
Kirkland Signature Organic Multivitamin $4 off
Nature's Bounty Zinc 50mg $2 off
Nubz Nylabone $5 off
Benefiber Prebiotic Fiber Supplement $5 off
Nexium 24hr Acid Reducer $5 off
Kirkland Signature AllerClear $3 off
Zyrtec Allergy 10mg Tablets or Liquid Gels $8 off
Neuriva Brain Supplement $7 off
Kirkland Signature Glucosamine with MSM $4 off
RoC Tighter Neck & Jawline $15 off
Claritin Tablets 115ct and Children's Chewable Tablets 80ct $8 off
Claritin Children's Syrup $4 off
Advil Ibuprofen Tablets 200mg $4 off
Advil Liqui-Gels 2pk or Advil PM $4 off
NatureMade CholestOff Plus $5 off
NatureMade Fish Oil $4 off
Dulcolax Laxative $5 off
Michelin Set of 4 Tires $150 off
BFGoodrich Set of 4 Tires $110 off
Nature's Bounty Magnesium Glycinate $4 off
Nature's Bounty Vitamin D3 $4 off
Nature's Bounty Hair, Skin & Nails Advanced Gummies $4 off
Nature's Bounty Hair, Skin & Nails Softgels $4 off
Nature's Bounty Odorless Fish Oil $5 off
Nature's Bounty B-12 $5 off
Nature's Bounty Sleep 3 $5 off
Nature's Bounty Probiotic 10 $6 off
Osteo Bi-Flex Triple Strength $6 off
Osteo Bi-Flex Ease $6 off