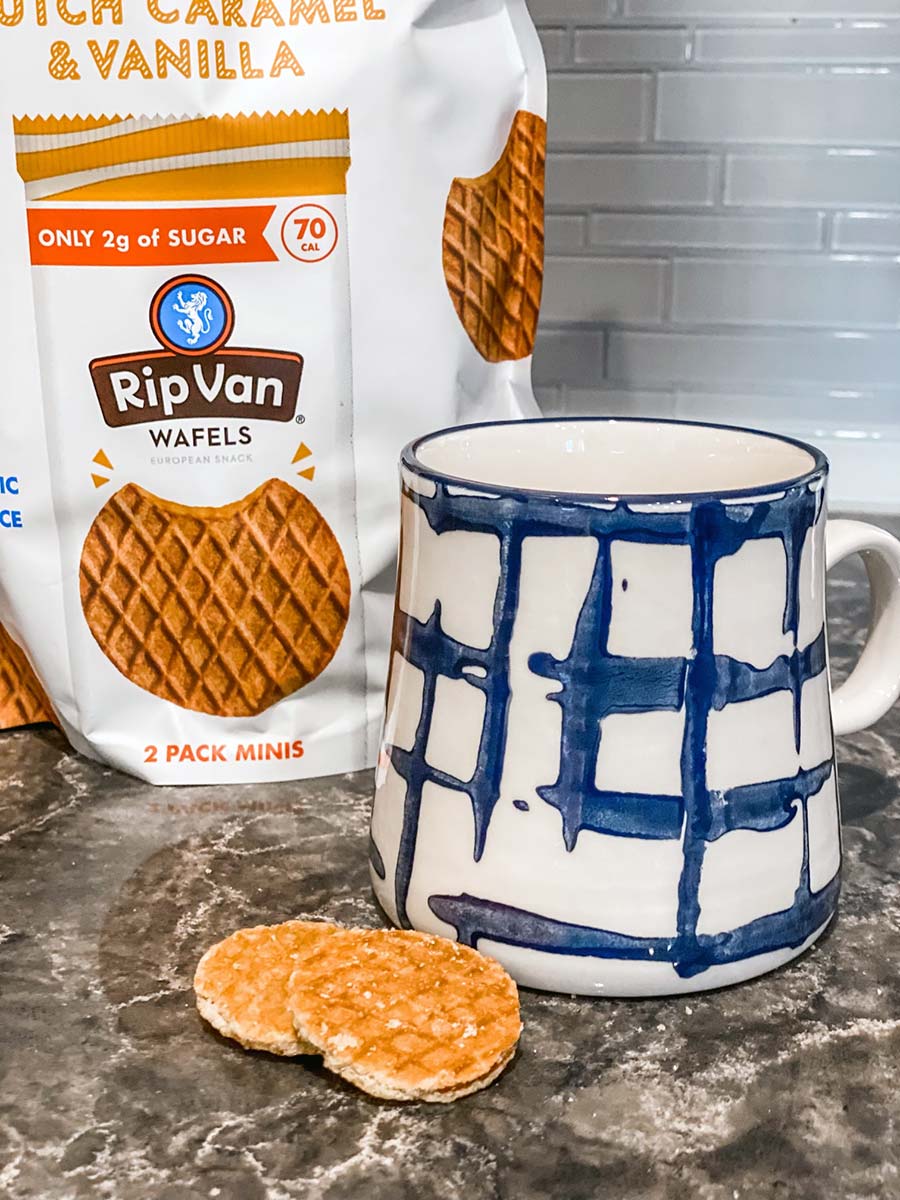 As soon as we saw this new twist on an old favorite on Costco shelves, we knew we needed to write a review. If you know Rip Van wafels, then you know why we'd be really excited about their new 2 Pack Minis with only 2 grams of sugar! Whether with coffee in the morning, as a snack in the afternoon, or an after dinner treat, these minis are the perfect addition to your pantry.
When Rip Van reached out and asked us to write a review, we were excited to put the product to the test! It's easy for low sugar products to sound good, but taste marginal. So we decided to give it a try!
As we have learned more about the Rip Van company itself, we have appreciated their products even more. Rip Van is a minority-owned business, founded in 2012 by Rip Pruisken and Marco De Leon. They were two hungry college students on the hunt for both convenient and healthier foods. Inspired by Rip's favorite childhood treat – the stroopwafel – Rip Van has reimagined the Dutch delicacy, creating a low-sugar, high-fiber snack that's as delicious as it is nutritious.
Rip Van currently offers six flavors of their signature stroopwafel, Dutch Caramel & Vanilla, Snickerdoodle, Honey & Oat, Birthday Cake, Chocolate Brownie and Cookies & Cream, with mini singles & mini pouches also available.
We first gave the sample a try the good old fashioned way- with coffee! It was the perfect addition to our morning coffee routine, and we didn't miss the sugar at all! We really didn't even notice a difference in taste!
Besides the great creamy, rich flavor, the mini size is a new favorite way to eat Rip Van wafels. It's just sweet enough to enhance your coffee, and yet not a heavy way to start the day. And something about the mini size caused us to savor the goodness just a little bit more.
Later in the day, we decided to give it the diaper bag and toddler try. In a pinch, while out running errands, we pulled it out of the diaper bag and handed it to our little guy in the back seat. It was a hit to say the least. Nothing is better as a mom on the go than having easy-to-reach-for snacks. And low sugar? The best! Safe to chew and easy for little hands, it's a perfect on-the-go snack for parents and littles alike!
Besides the amazing flavor that has truly passed the taste tests of many, we love what this product contains! Not only does it have just 2g of sugar, it also is a prebiotic! It has a prebiotic fiber that feeds your gut's good bacteria, which helps with digestion and overall good health. Score!
Additionally, it has a low glycemic index which means it can be a daily part of maintaining consistent blood glucose levels, as part of a healthy, balanced diet. And lastly, it has 4g of fiber! At 70 calories a pack, you can't go wrong. We are really impressed that these 2-pack mini Wafels pack such a health punch with incredible flavor- and not to mention, the healthiest option in Costco's cookie aisle!
Rip Van wafels are available in all Costco Northeast stores, with a rollout in the Southeast region coming soon. These tandem minis, available in a 32 count pack, are sold exclusively at Costco stores for just $9.99.
Like we said earlier, this is the perfect addition to your pantry- and with Costco's large quantity size, you can have the ideal on-the-go snack right at your fingertips for a great price. It's hard to find such a satisfying snack for just 31 cents!
Overall, we highly recommend Rip Van's 2 pack mini waffles. We've added them to our pantry as a staple, and we think you should too!