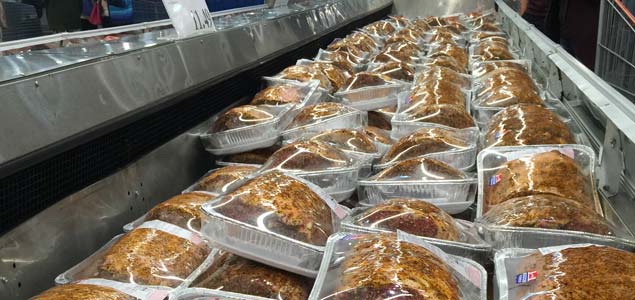 One of the best deals Costco has is prime rib roast. It's one of the best cuts of meat you can buy and the price can be fairly reasonable compared to some other cuts. When you look at the cost at other stores you can often find that Costco Prime grade meat is the same cost as Choice grade at other supermarkets. Right now the cost of Beef Rib Roast Bone In Standing Rib USDA Prime (Costco Item #34230) is $14.99/lb. You can also buy the Seasoned Prime Rib Bone In USDA Choice (Costco item #36237) for $10.69/lb. These prices are in the Bay Area region and may vary throughout the country.
We really like the flavor of the pre-seasoned prime rib at Costco. It has whole garlic cloves stuffed inside of it and is rubbed with an olive oil and steak rub. Another benefit is that it comes with cooking instructions, and when you're spending $100 – $200 on a piece of meat you definitely don't want to mess it up. On the downside, we noticed that all the Costco Prime Rib is blade tenderized. While this makes the meat more tender, it also potentially introduces bacteria. Therefore, you have to cook the meat to 160 degrees minimum internally, which is well done. For the folks that like their prime rib rare this won't work. However, it's quite likely you'll never have an issue with this and you've likely been eating steaks that have been blade tenderized for years.
Costco specially stocks the prime rib around the holidays such as Easter, Thanksgiving, and Christmas. Around Christmas you'll find the largest selection of prime rib on sale. You'll see hundreds in the open meat cases. They'll often sell out very quickly and you can find a line to get in the store in the morning for the chance to pick one up before they're gone. For the most part, you'll find them still in stock, just don't expect to get one at the end of the night. Also, if they're all out you should check with the meat department, as quite often they'll be in the back packaging up some more. Since a fresh prime rib only lasts for about 5 days everyone will rush to get one the week/weekend before Christmas. Another option would be to get one ahead of time and freeze it. If you're not set on serving one on Christmas day you can always find one after Christmas, quite often on sale for as cheap as $3.99/lb, as their expiration date is coming up and demand has dropped. You'd have to check with Costco every morning to find this discount though, as it sells out very quickly when it comes around. Hope you find exactly what you're looking for!
If you're looking for even more information on Costco prime rib you can also read our 2018, 2014 and 2011 posts:
Costco Prime Rib Roast 2018
Costco Prime Rib Roast 2014
Costco Prime Rib Roast 2011