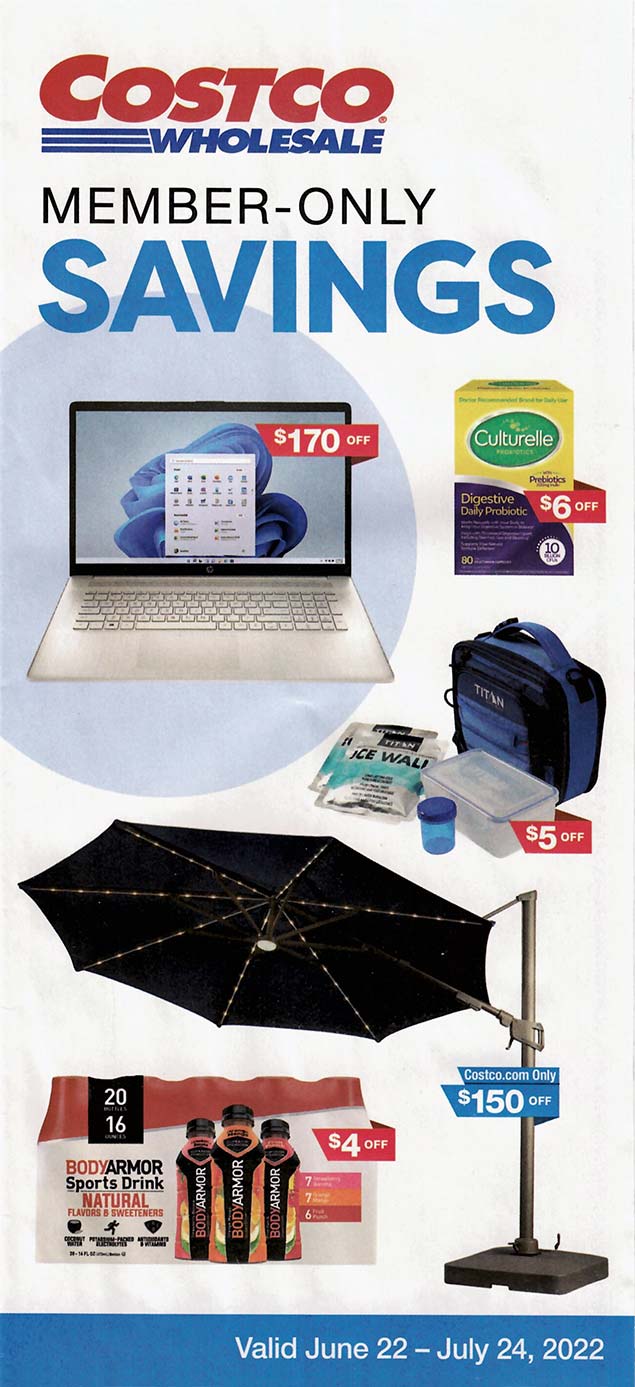 It's time we bring you the Costco July 2022 Coupon Book! The dates of this months coupons are from June 22nd through July 24th. Clicking the link above will take you right to the coupons where you can then click on them to enlarge them. Don't forget we also have the June 2022 Hot Buys Coupons which just started on June 11th and run through June 19th. If you want to get notified as soon as we release the July 2022 Coupon Book then make sure to sign up for our email list, follow us on Instagram and Like us on Facebook!
The Costco July 2022 Coupon Book has quite a mix of sales. The BODYARMOR Sports Drink isn't on sale very often, so if you're a fan it's a great time to stock up at $4 off. Same with Huggies Diapers, which sees the Pull-Ups Plus Boys or Girls for $9 off. Orgain Protein Shakes are back on sale too, at $6 off. We feel like this coupon book is light on food items. We love the Aidells Organic Chicken and Apple Sausage, so we'll definitely pick up some of them at $4.30 off. Nutella is rarely on sale too, and at $3.80 off the 2 pack, makes it a great deal. The tire coupon has switched back to Bridgestone and is $150 off a set of 4 tires.
If you can't find the link above to reveal the coupons you can also click this link to go directly to the first page of the slideshow for the July 2022 Costco Coupon Book. We'd love if you left a comment letting us know which items in this coupon book you're going to buy!
Here's a few of the deals in the Costco July 2022 Coupon Book:
Culturelle Digestive Daily Probiotic $6 off
Huggies Pull-Ups Plus $9 off
Orgain Clean Grass-Fed and/or Plant-Based Protein Shakes $6 off
T3 Featherweight StylePlus Hair Dryer $20 off
Sunvilla 11′ Cantilever Umbrella with Color-Changing Solar LED Lights $849.99 – $150 off = $699.99
Bounty Advanced Paper Towels $5 off
BODYARMOR Original and/or LYTE Sports Drink $4 off
Osteo Bi-Flex Triple Strength Joint Health $6 off
Perricone MD $12 off
Estroven Complete $5 off