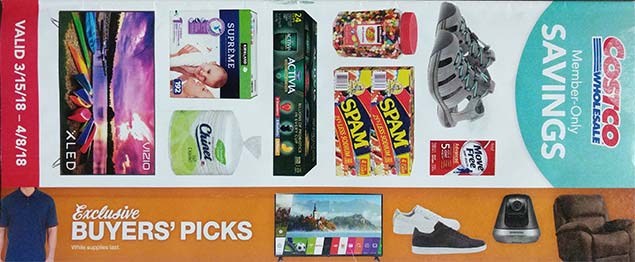 Hot off the presses is the Costco Coupons for March 2018. The coupon book will be valid from March 15th through April 9th. Click the link above to be brought right to all the coupon images for this months ad. The other set of Costco coupons that are running during this time is the Early March hot buys, which have various expiration dates, but check those out too if you haven't seen them, as there are some great deals. The March coupon book is 21 pages long, which is very normal compared to usual. If you want to get an email as soon as we post the latest coupons you can sign up for our email list, or Like us on Facebook!
There are some exciting Costco coupons for March 2018. First of all, the iPad Pro at $100 off is the best price on an Apple iPad since last Black Friday. We tried the Hansgrohe Talis M Pull-Down Faucet and were very happy with it. They have this $50 off deal every several months it seems like. The USB Wall Receptacle outlets are another item we tried recently and were happy with them. Definitely cheaper than you'll find at a home improvement store. We also love the Sea Salt Caramels and if you haven't tried them we highly recommend them. There's another Buy One Get One Free this month, this time it's large Chobani yogurt tubs. The tire coupon for this month has switched back to Bridgestone.
If you're reading this and still haven't found the March 2018 Costco coupons you need to click the link in the first sentence when you're on the blog post page. When you click that link you'll be taken right to the coupon book. How do you feel about the March 2018 coupons? Combined with the Early March hot buys do they make you want to get into the store asap?