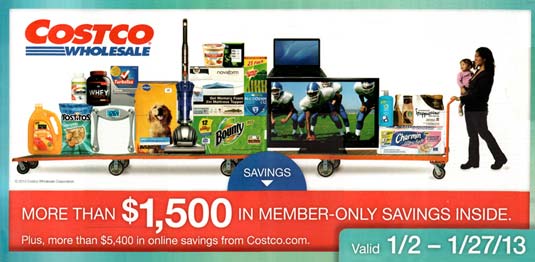 The new January 2013 Costco coupon book starts this Wednesday, and goes through Sunday the 27th. Clicking the link will allow you to view it and download it if you'd like. This month there are 5 pages of coupons that require a physical coupon (blue coupons), so you'll need to go to the membership desk in store and pick up a coupon book. Another interesting thing this month is that the coupon book starts on a Wednesday. From what I remember, for the last couple of years, it has always started on a Thursday.If you'd like to be notified as soon as deals come up, make sure to subscribe to our email list, like us on Facebook, and follow us on Twitter!
There are really no deals that seem to stand out to me. The Dyson DC40 Animal Ball Vacuum had a $120 off coupon during Black Friday weekend, and now it's only $100 off. Nonetheless, I picked it up myself during Black Friday and I can vouch, it's an awesome vacuum. A lot of people seem to be interested in the Samsung Sound Bar and subwoofer (around $200), but I've heard mixed reviews on it. Also of interest is the Sony Blu-Ray player, which has been on sale for a while, and should continue to be priced around $89. Lastly, you can't go wrong with the Kirkland Signature Chicken Tortilla Soup, so that should be a great buy at $2 off. I am tempted to pickup the Chobani Greek Yogurt and ON Whey Protein Powder, but I'll have to do a closer comparison in store. The tires are finally back to the Michelin discount, so if you've been waiting, now's your chance.
Remember, at most locations you can grab a book at your membership counter if you never got it mailed to you and at some locations the cashier will have the coupon there and automatically scan it for you. I  heard they are getting more strict on this though. Perhaps to encourage the new coupon email signup program. These coupons will not work in store, as you need the barcode. Read more to see a list of the items on coupon. Have you tried any of the items in this coupon book? What did you think?
Page 1
$479.99 after $100 off HP Pavilion Sleekbook 14" Laptop Computer
$699.99 after $100 off HP H8 Desktop Computer
$774.99 after $125 off HP DV6 15.6″ Laptop Computer with beatsaudio
$100 off VIZIO 55″ Class 1080p LCD HDTV
$30 off VIZIO 26″ Class 720p LED LCD HDTV
$50 off Samsung Sound Bar with Wireless Subwoofer ($200 AC?)
$40 off Sony 3D Blu-ray Player with WiFi ($89 AC?)
$20 off The Shark Professional Steam Pocket Mop
$40 off Bissell ProHeat 2X CleanShot Professional Carpet Cleaner
$100 off Dyson DC40 Animal Ball Bagless Upright Vacuum ($389 AC?)
Page 2
$6 off Ensure Regular 30pk AND/OR Glucerna Shake 24pk
$5 off Taylor Glass Digital Scale
$4 off Kamenstein Perfect Tear Paper Towel Holder AND/OR Food Scale
$5 off Kirkland Signature Coenzyme CoQ10 300mg
$5 off Schiff CHOOSE FROM: MegaRed Krill Oil 300mg 90ct, MegaRed Extra Strength Krill Oil 500mg 80ct, MegaRed Joint Care 60ct, Move Free Advanced 160ct, Glucosamine 1500 mg with D 340ct, Glucosamine MSM 1500 mg 200 ct
$5 off Bausch & Lomb CHOOSE FROM: Renu Fresh Multipurpose Solution 2/16oz + 2oz, Biotrue Multi-Purpose Solution 2/16 oz, PreserVision 180ct, PreserVision with Lutein 180ct, Ocuvite 2/120ct, Boston Advance Multi-Pack 2/4oz + 1oz
$2 off Kirkland Signature CHOOSE FROM: Fish Oil 1000mg 400ct, Vitamin D3 2000 I.U. 600ct, Calcium 600 mg + D3 500ct, Vitamin E 400 I.U. 500ct
$3 off Kirkland Signature CHOOSE FROM: Vitamin C with Rose Hips 1000mg 500ct, Calcium Chews 180ct, Daily Multivitamin 500ct, Mature Adult Multivitamin 400ct
$4 off CHOOSE FROM: Nature Made Magnesium 400mg 150ct, Super B—Complex 460ct, Vitamin B-12 1000mcg 375ct, Triple Omega 180ct, TruNature Cranberry 300mg 220ct
$5 off Nature Made CHOOSE FROM: CholestOFF 240ct, CholestOFF Plus 200ct, Triple Strength TripleFlex 150ct, Prenatal + DHA 150ct, Odorless Garlic Complex 300ct
Page 3
$3 off CHOOSE FROM: Centrum Multivitamin 365ct, Silver 285ct, Silver Men's 250 ct OR Women's 250ct, Caltrate 2/170ct
$15 off CHOOSE FROM: Nicorette Original Gum, 2mg OR 4mg 200ct, Fresh Mint Gum 2mg OR 4mg 190ct, Mint Lozenges 2mg OR 4mg 189ct, NicoDerm CQ Clear Patches 14mg OR 21mg 21ct
$4 off CHOOSE FROM: Focus Factor 150ct, Natrol 5-HTP 150ct, TruNature CinSulin Advanced Strength Cinnamon 170ct Digestive Probiotic 100ct
$7 off Qunol Liquid CoQ10 100mg 20oz AND/OR Qunol Mega CoQ10 100mg 120ct
$12 off Kirkland Signature Quit Gum
$15 off WD My Passport 2TB Portable Hard Drive
$20 off: BUY ANY TWO HP ink cartridge packs OR toners GET $20 OFF YOUR TOTAL PURCHASE
Up To $12 off: SanDisk Media CHOOSE FROM: SanDisk Media CHOOSE FROM: $7 OFF 16GB Ultra SDHC 2pk, $12 OFF 16GB Ultra USB Drive 3pk, $6 OFF 32GB Ultra MicroSDHC, $7 OFF 32GB Extreme SDHC, $7 OFF 32GB Ultra USB
Page 4
$9 off Chevron OR Shell Motor Oil
$20 off Panasonic KX-TG254SK 4-Handset Phone System
UP To $219.99 OFF T-Mobile LG Optimus L9 – 4G, UP To $60 OFF Verizon – DROID RAZR HD by MOTOROLA – 4G LTE, UP To $80 OFF AT&T LG Optimus G – 4G LTE, UP To $80 OFF Sprint LG Optimus G – 4G LTE
$1.50 off Kirkland Signature Granola Snack Mix
$1.80 off Tostitos Restaurant Style Tortilla Chips AND/OR Scoops
$4 off Pedigree Dry Dog Food
$2 off Langers Mango Juice
$2.30 off Prego Heart Smart Sauce
Page 5
$2.80 off Seeds of Change Organic Quinoa & Brown Rice
$3 off Nescafé Taster's Choice Instant Coffee
$2 off Kellogg's Special K with Red Berries
$3 off Healthy Choice Chicken Soup Variety Pack
$5 off V8 Vegetable Juice
$3 off Clorox 2 Stain Fighter & Color Booster
$4 off Arm & Hammer OxiClean Max Liquid Detergent
$2.50 off Pledge 3/13.8oz AND/OR Scrubbing Bubbles Bathroom Cleaner 4/25oz
$2.50 off Windex Advanced 32oz Trigger + 172oz Refill AND/OR Drano Ultra 2/80oz
$2.50 off Scotch-Brite Sponges
Page 6
$3 off Starbucks Frappuccino
$3.25 off Garden Lites Grilled Zucchini OR Vegetable Soufflé
$2.50 off Jimmy Dean Croissant Sandwiches
$4 off Bellatoria Pizza
$2 off Skotidakis Jalapeño Greek Yogurt Dip AND/OR Skotidakis Dill & Cucumber Greek Yogurt Dip
$2 off Kirkland Signature StockPot Chicken Tortilla Soup
$10 off Royal 12-Sheet Shredder
$20 off Oral-B Professional Care Advantage Rechargeable Toothbrushes
$7 off Oral-B Replacement Brush Heads
$10 off ful 30″ Hybrid Drop Bottom Wheeled Duffel
Page 7
$120 off Sealy Posturepedic Langley Plush Queen Mattress Set
Up To $30 off NovaForm 3″ Gel Memory Foam Toppers CHOOSE FROM: $20 OFF Twin AND/OR Full $30 OFF Queen, King AND/OR Cal King
$3 off per package Boneless Pork Loin
$1.50 off Febreze 3pk
$8 off Any Two Boxes: BUY ANY TWO BOXES of Kellogg's Special K Snack Bar 35ct AND GET $8 OFF YOUR TOTAL PURCHASE
$70 off ANY SET OF 4 Michelin Tires
Page 8
$2.50 off Sensible Portions Veggie Snacks
$3.30 off Fiber One 90 Calorie Brownies
BUY TWO BOXES OF Multi-Grain Cheerios 37.5oz AND/OR Lucky Charms 46 oz AND GET $5 OFF YOUR TOTAL PURCHASE
$3 off Bona Hardwood Floor Cleaner
$2.50 off Tide Liquid OR Powder Laundry Detergent
$2.50 off Gain Liquid OR Powder Laundry Detergent
Page 9
$2 off Ziploc Sandwich, Freezer Gallon, Freezer Quart, Slider Mix AND/OR Storage Mix
$3.75 off Kleenex Family 10/260ct AND/OR Ultra Soft 12/85ct
BUY Lysol Wipes 4/80ct GET Lysol Advanced Toilet Bowl Cleaner 4/32 oz FREE
$2 off Dixie Plates
$2 off ANY Charmin Ultra Bath Tissue
$2 off Downy Fabric Enhancer
$1.75 off Bounce Dryer Sheets 4-in-1
$2 off ANY Bounty Roll Towels
$2.50 OFF Cascade Action Pacs 90ct OR $3 OFF Cascade Complete Action Pacs 85ct
$3 off Swiffer Dusters 24ct, Dry Cloths 80ct AND/OR Wet Cloths 60ct
Page 10
$2 off Dawn Advanced Power
$4.20 off Chobani Greek Yogurt Variety Pack
$2.25 off Hillshire Farm Ultra Thin Turkey Breast
$2.50 off Healthy Choice Fudge OR Frozen Yogurt Bars
$8 off Olay Regenerist Microsculpting Serum, 2/1.7oz AND/OR Olay Regenerist Microsculpting Cream, 2/1.7oz
$3.50 off Olay Complete UV Moisturizer
$3 off Olay Body Wash
$6 Muscle Milk Light
$12 off Optimum Nutrition Performance Whey Isolate
BUY Gillette Fusion ProGlide Blades AND Gillette Comfort Advantage Shave Gel GET $8.99 OFF YOUR TOTAL PURCHASE
Page 11
$4 off Colgate Total Advanced Whitening Toothpaste
$4 off Crest Pro-Health Toothpaste
$2.50 off Crest Pro-Health Rinse
$4 off Oral-B Advantage Crisscross Toothbrushes
$4 off Secret Clinical Antiperspirant/Deodorant
$5 off Huggies Baby Wipes
$2 off Head & Shoulders Classic Clean AND/OR Green Apple
$2 off Pantene Shampoo AND/OR Conditioner $2 off Herbal Essences Shampoo AND/OR Conditioner
$4 off Aveeno Lotion
Page 12
$2.50 off Always CHOOSE FROM: Ultra Thin Regular, Ultra Thin Overnight, Long Super Maxi
$3 off Tampax Pearl Tampons
$10 off TurboTax 2012 CHOOSE FROM: Deluxe with state, Deluxe no state, Premier, Home & Business
$5 off Prilosec OTC Tablets 42ct AND/OR Align Daily Probiotic 63ct
$4 off CHOOSE FROM: Metamucil Orange Sugar-Free 228 dose, Orange Regular 228 dose, Vicks NyOuil LiquiCaps 72ct, NyOuil Original AND/OR Cherry Liquid 3/12oz DayQuil LiquiCaps 72ct
Up To $20 off ACUVUE – CHOOSE FROM: $10 OFF 4 BOXES OF: ACUVUE Oasys, ACUVUE Oasys for ASTIGMATISM, ACUVUE Oasys for PRESBYOPIA OR $10 OFF 1 BOX OF: ACUVUE Oasys 24pk OR $20 OFF 4 BOXES OF: 1-DAY ACUVUE MOIST 90pk
Page 13
$250 off Maytag Steam 950 Series Laundry Suite
$699.99 after $200 off Westinghouse Electric Start Generator
$599.99 after $200 off HealthRider H50e Elliptical OR HealthRider H55t Treadmill
$569.99 after $200 off BIGHORN 19ECB Safe
Page 14
$999.99 after $200 off HP Envy dv7t Quad Edition Laptop Computer
$899.99 after $200 off Dell Inspiron 15R Special Edition Laptop Computer
Up To $100 off Select Lenovo ThinkPad Laptops
$299.99 after $150 off Swann 8-Channel Full D1 Security Camera System
$369.99 after $30 off Blendtec Total Blender
$1699.99 after $500 off Brentwood 3-Piece Top Grain Leather Set
$179.99 after $20 off Garmin nüvi 2555LMTHD 5″ GPS
$469.99 after $130 off Brother MFC-9560CDW Color Laser All-In-One