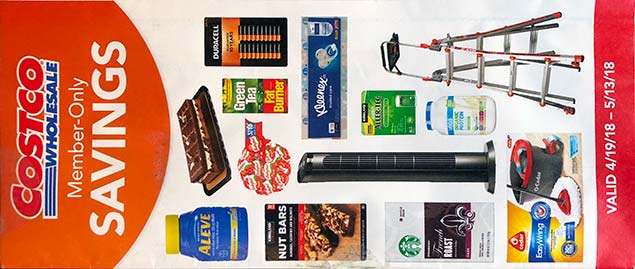 The Costco Coupons for April 2018 are here! The April 2018 Costco Coupon Book will run from April 19th through May 13th. When you click on the link above it will take you right to the coupons for this months booklet. Once again the Hot Buy Coupons are also running during April too. They started April 9th with most ending on April 18th and some on April 22nd. The Early April Hot Buy Coupons are here to tide us over between the ending of the March coupon book and beginning of the April coupon book. The April coupon book is 23 pages long, with a few more large page product ads. If you want to get an email as soon as we post the latest coupons you can sign up for our email list, or Like us on Facebook!
After going through the April 2018 coupons we've come up with a few good deals we want to point out. The Portofino Collection 7-piece Deep Seating Set is killer value at only $1999 after $500 off. If you're looking for an outdoor patio furniture set that seats a lot of people this is your best bang for the buck at Costco. No other set seats as many people for this type of price. The Brita water pitcher is $8 off, making it only $21.99. This is much better than the $42 price at Walmart or $50 price at Amazon. We really like the Kohler Malleco Touchless Pull-Down Kitchen Faucet at $199 as well. If you haven't tried the Snappers Dark Chocolate Sea Salt then you need to read our review of them. Lastly, the Kirkland Signature Baby Wipes are a great deal at $15.99 after the $4 coupon. That makes them 1.7 cents per wipe, which is an amazing value. The tire coupon is surprisingly Michelin after being Bridgestone for only 1 month.
If you're still looking for the April 2018 Costco Coupon Book then click the link in the first sentence when you're on the post page and you'll be taken right to them. What are your takes on the April Coupons? Which items will you be looking to get out of this coupon book?