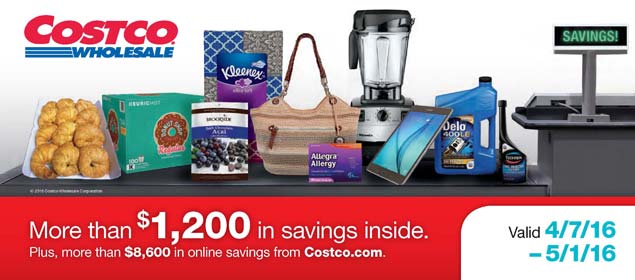 Just posted is the April 2016 Costco Coupon Book. Clicking the link above will display the coupons below so you can view them or print them if you'd like. The Costco ad flyer runs from April 7th through May 1st. We've also posted the May Coupon Book if you'd like to take a look at that too. If you want to be the first to be notified when next months coupons are posted then subscribe to our email list, like us on Facebook, and follow us on Twitter!
The April coupons do seem to be not that exciting this month. Some would say they continue to go downhill each month. We think it's just a case of getting used to seeing all the same deals each year and now expecting those deals. Costco would be smart to change things up a little and surprise us with a great deal or a bigger discount on an item. The Ling Ling Potstickers are always a great value on coupon. There are a lot of summer items on sale, such as outdoor lights, sunscreen and an outdoor blanket. I'm really excited to see the ZonePerfect Protein Bars back in stock because I've missed them a lot over the last 6 months or so they have not been in store. I find their flavor one of the best of any protein/nutrition bar. The tire coupon is Bridgestone again, but starts a little early on April 4th, and will likely switch back to Michelin in May.
What do you think of the April coupon book? Going downhill or just another month of the same type of deals usually put out by Costco? Remember, to see the coupons you must click the link above.