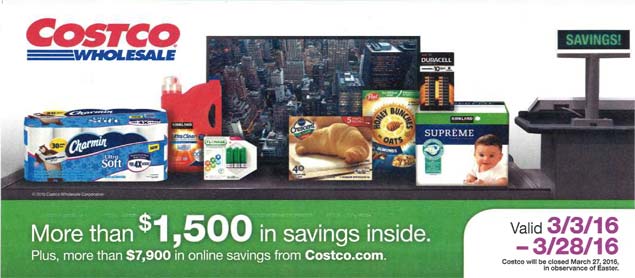 Here is a very early preview of the March 2016 Costco Coupon Book! Clicking the link above will display the coupons below so you can view them or print them if you'd like. The sale runs from March 3rd through March 28th. What is unusual about that is that the 28th is a Monday, and Costco coupon books almost always end on a Sunday. However, March 27th is Easter Sunday, on which Costco is closed, so we can see why it doesn't end that day. The February coupon book is still valid until the 21st. If you want to be the first to be notified of next months coupons, subscribe to our email list, like us on Facebook, and follow us on Twitter!
One of the top March coupons is the Goodyear wiper blades which we've waited for all winter. The Braun Series 7 shaver is the best shaver we've ever used, and highly recommend it. The CytoSport Whey Protein Powder is also a great deal (and great product) at $8 off. It's not that often that Kirkland Signature Diapers are on sale, so we'd suggest stocking up now. When it says Limit 2 that means per shopping trip. I don't think I'll be picking up anything except for maybe the Whey Protein Powder if I run out of the Combat protein powder I picked up during the January coupon book. The tire coupon is back to Bridgestone, and will likely be that through April.
At 18 pages long the March coupon book is a pretty long flyer of deals. What are the sales that stand out to you as being great buys? Remember to click the link above to display the coupons below.