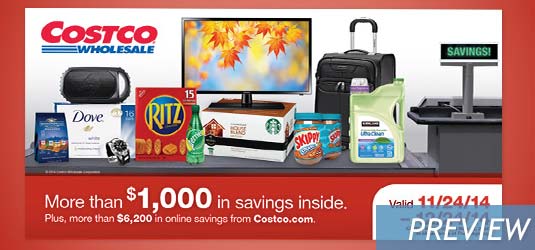 In a little bit of a surprise, the December 2014 Costco Coupon Book starts next Monday, the 24th of November. Clicking the link will allow you to view, download, or print the coupon book out. This early preview give you the opportunity to see what you want to hold off on buying until it comes on sale next week, and better plan out your upcoming shopping trips. The coupons will be valid from November 24th through December 24th, which is also about a week longer than Costco usually has them go for. The January 2015 coupon book starts on December 30th if you'd like to see that as well. This coupon book seems to start earlier than normal so it can encompass Black Friday, Cyber Monday, and Thanksgiving weekend. There are three different Costco coupon books that will be running at the same time, the Pre-Holiday Savings Event which goes through December 1st, the Black Friday ad which goes through November 30th, and these coupons. If you want to be the first one to find out when we post the latest coupon book please subscribe to our email list, like us on Facebook, and follow us on Twitter!
With the exception of the Invicta Men's Watch, I don't really see much that would make good Christmas gifts. The mac and cheese could be good for a holiday party and the Ghirardelli squares can be good to put out during Christmas time, but that is about it. The Emergen-C and Airborne is good for those that get sick during the holidays as well. Overall, I find this coupon book very underwhelming. I don't think there's anything that I would be buying. The tire coupon is once again Bridgestone.
If you've bought something recently that goes on sale starting November 24th I'd recommend bringing your receipt into the store, going to membership, and asking for a price match. They'll send you to the special cashier (first checkstand) to get your money refunded. If it's been within two weeks you shouldn't have an issue. If it's been longer you may have to buy the item again and return it with the old receipt. Anything stand out to you in this coupon book or are you as underwhelmed as we are?
SEE ALSO:
Costco Pre-Holiday Savings Event (Nov. 21st to Dec. 1st)
Costco Black Friday Ad Scan (Nov. 28th to 30th)