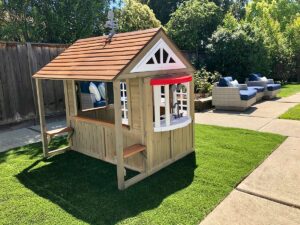 EDIT 5/19/2019: Now $60 off through 5/28/2019!
The second we laid eyes on the KidKraft Cedar Summit Country Vista Playhouse we knew we needed it in our backyard. We didn't necessarily have a place for it, but as almost all loyal Costco members have done before, we bought first and asked questions later. Thanks so much to our friends at KidKraft for supplying us one that we were able to review for all you faithful readers. We can happily say it's been thoroughly kid-tested and mother-approved and has passed with flying colors. Our 15-month-old daughter has played with it extensively and it seems really safe! Older kids, such as our 5-year-old niece, love it as well. The kids now always want to come over and play in the backyard. Going from not having that at all to being the one that has the fun thing they beg to come over and play with is pretty great.
We were quite shocked by the number of pieces in the KidKraft Cedar Summit Country Vista Playhouse when we opened the box. It's definitely a project to put it together, but a pretty fun one at that. We didn't count but we probably put in somewhere between 100 and 200 screws. The attention to detail in the build process and instructions were quite impressive. We were never really confused about what we were doing next when following the steps. By yourself you can assemble it in roughly 3 hours. The instructions suggest two people put it together, but it can be done by yourself if you use clamps to hold things together while you're screwing everything together. Everything was labeled really well too.
After assembling we noticed small details that we definitely appreciated. Every time we thought our daughter was going to smash her hands we noticed the doors were designed to avoid that, with gaps just large enough to avoid a lot of crying. The magnet system used on the doors is really nice too, strong enough to keep them shut but easy enough for our 15-month-old daughter to still open. The bay window is really cool, but would easily catch water on a rainy day. Thankfully that was also thought of and KidKraft put drainage holes in the bottom of it. The fresh smell of the cedar wood resonated through our garage before we assembled the product, speaking to the quality of the material used.
The KidKraft Cedar Summit Country Vista Playhouse is only $299.99 in Costco stores throughout the country. While not available in every Costco store, it is available in most. It is also available online on Costco.com. There is also a much larger playset in a lot of Costco warehouses called KidKraft Cedar Summit Copper Ridge. It sells for $999.99 and includes two sets of slides, is three stories tall, and has a swing set as well. We haven't tried that one yet, but having now reviewed another KidKraft Cedar Summit product, we can rest assured that it's a quality product that is built to last and built for fun.