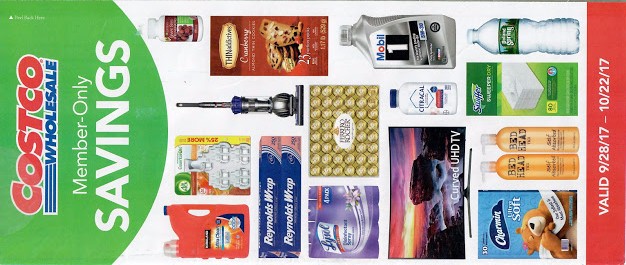 If you're looking for high quality images of the October 2017 Costco Coupon Book, look no further. The October coupons will run from September 28th to October 22nd. When you click the link above it will take you right to the coupon book so you can view it. We want to once again thank our friends at Costco97.com, who helped us get the flyer to you so quickly. If you want to get an email as soon as we post the latest coupons you can sign up for our email list, or Like us on Facebook!
The October 2017 Costco coupon book is pretty large at 23 pages. Overall, we'd say it's got some pretty good deals. One online commenter says, "All the goodies this time…gonna be broke!" Some items we believe to be a good deal are the 55″ TCL TV for $480, the 4ft LED Tube Lights at $13, as well as some other TV's and some laptops. If you need Wiper Blades for the winter, they will also be on sale for a very low price. We really like the Braun Shaver and always recommend it when it shows up in the coupon book. The LED String Lights are also a good deal at $20 off. Michelin is the tire coupon for the second month in a row, and we anticipate the November coupon book will be Bridgestone.
If you're still looking for the October 2017 Costco Coupon Book then scroll all the way up to the top and click the link in the very first sentence when you're on the October 2017 Costco Coupon Book page. We'll also be posting the in-store pricing after coupon very shortly, so check back for that. What are your favorite coupons this month? What will you be buying in September?