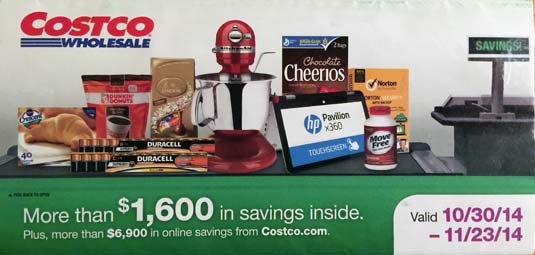 Starting on Thursday is the November 2014 Costco Coupon Book and it is available now for your viewing pleasure. If you'd like to take a look at it before it begins you can plan your upcoming shopping trips and make sure you don't buy items now that will be on sale next week. Clicking the link above will allow you to view, download, or print the coupon book out. The new coupons will run from October 30th through November 23rd. The October coupon book will be valid through October 26th if you'd still like to take advantage of those deals as well. The only items that will require a physical coupon book or the app is the glasses deal, the holiday cards, and the photo greeting cards. If you want to be the first one to find out when we post the latest coupon book please subscribe to our email list, like us on Facebook, and follow us on Twitter!
Compared to the October coupon book this one is not quite as good. I believe this to be pretty common for the November coupon book as Costco saves their best deals for Black Friday. The first Costco Black Friday ad scan is now available if you want to start planning your Christmas shopping. As far as some of the better deals in this flyer there is a heated throw for only $23.99, the Philips Sonicare Replacement Brush Heads 6pk for $10 off to make them $39.99, and the Naked Juice variety pack at $4 off. Some other seasonal items that might be good to buy include a slow cooker at $10 off, the KitchenAid mixer at $60 off, Lindt truffles, and the temporal artery thermometer. The Gold Toe socks are always a great value, especially after $3 off. As for myself I'll likely pick up some Opti-free contact solution and a Starbucks Frappuccino pack. The Naked Juice pack could also be interesting to try. For November and December the tire coupon is Bridgestone.
If you've bought something recently that goes on sale starting October 30th I'd recommend bringing your receipt into the store, going to membership, and asking for a price match. They'll send you to the special cashier (first checkstand) to get your money refunded. If it's been within two weeks you shouldn't have an issue. If it's been longer you may have to buy the item again and return it with the old receipt. Click on Read More if you'd like to see a list of the items on each page. What are you going to pick up out of the latest coupon book?
SEE ALSO:
Costco Pre-Holiday Savings Event (Nov. 21st to Dec. 1st)
Costco Black Friday Ad Scan (Nov. 28th to 30th)
Page 1
$30 off Ninja Ultra Kitchen System
$6 off Sunbeam 50″ x 60″ Velvet Plush Heated Throw
$30 off Philips Sonicare Flexcare Rechargeable Toothbrush 2 pk
$4.50 off Colgate Optic White Toothpaste
Page 2
$10 off Philips Sonicare Replacement Brush Heads 6ct
$30 off Norelco SensoTouch 3D Razor Series 8400
$10 off Crock-Pot 6 Quart Stainless Steel Slow Cooker with Little Dipper Warmer
$30 off FoodSaver; $20 off Shark Pro Steam & Spray Mop
$60 off KitchenAid 6 Quart Bowl-Lift Stand Mixer
$300 off Sharp 80″ Class 1080p 120Hz Smart LED LCD HDTV
$100 off LG 55″ Class 1080p Smart LED LCD HDTV
Page 3
T-Mobile Samsung Galaxy S 5 White, Verizon Samsung Galaxy S 5 White, AT&T LG G3 Black, Sprint LG G3 Black
$30 off Panasonic 5-Handset Phone
$100 off HP Pavilion x360 Convertible 13.3″ Touch Laptop Computer
$25 off Seagate 2TB Portable Hard Drive with Case
$179.99 after $100 off Panasonic ZS-35 Digital Long-Zoom Camera
$100 off Canon HF-R50 HD Camcorder
Page 4
$20 off Norton Security with Backup
$239.99 after $30 off Garmin Nuvi 2699LMTHD 6″ GPS
$369.99 after $80 off Casio 88-Key Digital Piano
Buy 2 HP Ink Cartridge Packs and get $20 off your total purchase
$5 off KitchenAid 4-Piece Ceramic Knife Set
$4 off Pyrex Glass Mixing Bowl Set;
14.49 after $4 off 4-Piece Porcelain Serving Bowl Set; Essenza Candles 3-pk
Page 5
$7.99 after $2 off St. Eve Kids' Sleep Pant 2pk
$6.99 after $3 off Gold Toe Men's Sheffield Sock 4pk
$3 off Duracell Alkaline Coppertop Batteries C or D 14ct
$29.99 after $10 off Waterpik Waldorf Handheld Showerhead
$2 off Dove Shampoo or Conditioner 40oz; $2.50 off Head & Shoulders 2-in-1
$4 off Neutrogena Rainbath Shower Gel 40oz
$3.75 off Lubriderm Lotion 2/24oz + 6oz
$7 off ROC Retinol Correxion Deep Wrinkle Day or Night Moisturizer
Page 6
Colgate 360• Optic White Toothbrush 8-ct (-$4)
Gillette Fusion ProGlide Power Razor + 6 Cartridges (-$6)
Bridgestone Tires (-$70 any set of 4)
Chevron Techron Fuel Injector Cleaner 6/16 oz or Delo 15W-40 Motor Oil 3/1 gal (-$7)
Robitussin DM Max Day 8 oz + 4 oz & 8 Oz Night (-$3.50)
Dimetapp 2/4 oz Day & 4 oz Night (-$3.50)
Halls Cough Drops Variety Pack 6-pack (-$2.50)
Mucinex 2/9 oz (-$5)
Mucinex Children's 2/6.8 oz (-$5)
Delsym 12-Hour Cough Suppressant 2/5 oz (-$5)
Vitafusion MultiVites 250ct (-$3)
Vitafusion Women's Multivitamin 220ct (-$3)
Vitafusion Power C Gummy 300 ct (-$3)
Vitafusion Fiber Well Gummies 220 ct (-$3)
Page 7
Exergen Temporal Artery Thermometer (-$7)
Joint Juice Glucosamine Chondroitin 30/8 oz (-$5)
Weider Red Yeast Rice Plus 600mg/180 ct (-$4)
Cosamin DS 230 ct (-$11)
Green Tea Fat Burner 200 ct (-$3)
Wellesse Joint Movement Glucosamine 33.8 oz (-$5)
Salonpas Pain Relieving Patch 140 ct (-$2)
Prilosec OTC Tabs 20 mg 52 ct (-$6), Metamucil Orange 228 dose (-$6)
Page 8
Qunol Liquid CoQ10 100 mg 20 oz (-$7)
Qunol Mega CoQ10 100 mg 120 ct (-$7)
AmLactin Moisturizing Body Lotion 20 oz (-$4)
Slo-Niacin 500 mg 175 ct (-$4)
Schiff Move Free Advanced 170 ct (-$5)
Move Free Ultra 60 ct (-$5)
Schiff MegaRed Krill Oil 300 mg 110 ct (-$5)
Schiff megaRed Krill Oil 500 mg 80 ct (-$5)
Schiff MegaRed Joint Care 60 ct (-$5)
Nature made Super B-Complex 460 ct (-$4)
Nature Made Vitamin B-12 1000mcg (-$4)
Nature Made Prenatal Multi + DHA 150 ct (-$4)
Nature Made Triple Strength Triple Flex 170 ct (-$6)
Nature Made CholestOFF Plus 200 ct (-$6)
Nature Made Iron 65 mg 300 ct (-$3)
Nature made magnesium 400 mg 150 ct (-$3)
Nature Made Organic Flaxseed Oil 1400 mg 300 ct (-$3)
Kirkland Signature Fish Oil 180 ct (-$3)
Kirkland Signature Chewable Vitamin C 500 mg 500 ct (-$3)
Kirkland Signature performance Multivitamin 300 ct (-$3)
TruNature Resveratrol 250mg 140 ct (-$3)
Page 9
Alcon Opti-Free Replenish 2/14 oz (-$4)
Systane Ultra 3/10 ml (-$4), One A Day 50+ Men's Multi 200 ct (-$3)
One A Day 50+ Women's Multi 200 ct (-$3)
Aleve 320 ct (-$3)
Natrol 5-HTP 100mg/150 ct (-$4)
Natrol Melatonin 5 mg/250 ct (-$4)
Natrol Biotin 500mcg/250 ct (-$4)
Prevacid Capsules 15mg 3/14 ct (-$5)
Benefiber Powder 190 dose (-$5)
Execedrin Extra Strength Caplets 300 ct (-$3)
Execedrin Migraine Capsules 300 ct (-$3)
Gas-X extra Strength Softgels 120 ct (-$3)
Zicam RapidMelts 45 ct (-$4)
Schiff Digestive Advantage Probiotic Gummies 120 ct (-$4)
Dulcolax Laxative Tablets 200 ct (-$4.50)
Zantac Tablets 150 mg 2/50 ct (-$4.50)
Kirkland Signature Cold Multi-Symptom Day 2/60 ct & Night 48 ct (-$2)
Kirkland Signature Mucus relief Tablets 2/200 ct (-$2)
Kirkland Signature Acetaminophen Rapid Release Gelcaps 500 mg/400 ct (-$2)
Kirkland Signature Acetaminophen PM Capsules 500 mg/375 ct (-$2)
Page 10
Lindt Lindor Truffles 50 ct (-$2.90)
M&M's (-$2.25)
Stacy's Pita Chips 28 oz (-$2)
Carr's Cracker Collection 6 ct (-$2.50)
Chocolate Cheerios 36 oz (-$2)
Dunkin' Donuts Coffee 40 oz (-$3.50)
Starbucks French Roast Whole Bean Coffee 2.5 lbs (-$4.50)
Starbucks Via Instant Coffee 24 ct (-$3.25)
Swiss Miss Hot Chocolate 60 ct (-$1.50)
Splenda Sweetener 1000 ct or 1.63 lbs (-$5)
Page 11
Nutella 2/33.5 oz (-$3.50)
Starbucks Frappuccino 12/9.5 oz (-$3)
Bottled Water (-$1)
San Pellegrino Mineral Water 12/25.3 oz (-$3)
Palmolive Liquid Dish Soap 90 oz (-$2)
Cascade Complete Action pacs 85 ct (-$3)
Scotch-Brite Sponges (-$2.70)
Kirkland Signature Detergent 194 oz/126 loads (-$2.90)
Gain Liquid laundry Detergent 225 oz/146 loads (-$4)
Gain Powder Laundry Detergent 206 oz/180 loads (-$4.50)
Page 12
Arm & Hammer Oxi Clean Max Liquid Laundry Detergent 250 oz /160 loads (-$4)
Bounce Dryer Sheets 260 ct (-$2)
Scotch-Brite Lint Rollers 5/95 sheets (-$2.50)
Air Wick Scented Oils Warmer + 7 Refills (-$3)
Clorox Toilet Bowl Cleaner 6/24 oz (-$2.80)
Clorox Automatic Toilet Bowl Cleaner Tabs 6/3.5 oz (-$2.80)
Liquid-Plumr Clog Destroyer 2/80 oz (-$2.50)
Pine-Sol Disinfectant Cleaner 175 oz (-$2.50)
Tasty Bite Madras Lentils 6/10 oz (-$3)
Kirkland Signature Caesar Salad (-$2 off per package)
Pillsbury Crescent Rolls 40 rolls (-$2.60)
Page 13
Naked Juice Variety pack 12/10 oz (-$4)
Jimmy Dean Turkey Sausage Links 48 ct (-$2.80)
Spanakopita 48 ct (-$3.70)
Bertolli Chicken Margherita & Penne Skillet Meal 2/30 oz (-$4)
Ling Ling Mini Spring Rolls (-$2.50), Boursin 3/5.2 oz (-$2.25)
Kirkland Signature Broccoli Cheddar Soup 2/32 oz (-$2.50)
Costco Optical (Buy 1 pair of eyeglasses and get $30 off each additional pair for the same individual)