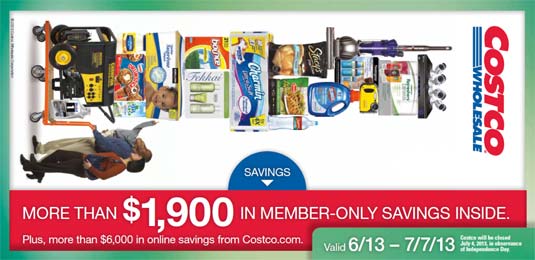 Now being mailed is the June 2013 Costco coupon book. Clicking the link will allow you to view or download the coupons, which run from June 13th to July 7th. The May 2013 coupon book just ended last Sunday and this one begins 11 days later. There are only three pages of coupons requiring barcodes, as the rest are instant. If you'd like to be notified as soon as deals come up, make sure to subscribe to our email list, like us on Facebook, and follow us on Twitter!
Each month it seems like the coupon book is getting a little less exciting than the previous month. There are a lot of drinks to choose from, including Vita Coconut water, KS Diet Green Tea, Perrier Sparkling water, San Pellegrino, KS VitaRain, Starbucks Refreshers, and Sobe Lifewater. If you're looking to restock, Bounty paper towels and Charmin toilet paper is on sale. No Kirkland Signature paper towels or toilet paper. As for me, I like the VitaRains, so I may get some more of those, and might try the Starbucks Refreshers if they are cheap enough. The tire coupon is Michelin for the second month. I'm pretty sure next month will be Bridgestone.
Remember, at most locations you can grab a book at your membership counter if you never got it mailed to you and at some locations the cashier will have the coupon there and automatically scan it for you. I  heard they are getting more strict on this though. Perhaps to encourage the new coupon email signup program. These coupons will not work in store, as you need the barcode. Have you tried any of the items in this coupon book? What did you think?