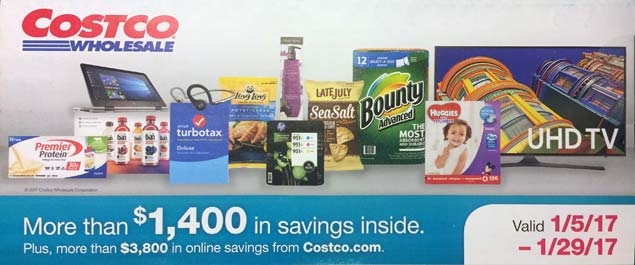 Here is an early preview of the January 2017 Costco coupon book. When you click the link above it will take you right to the coupons so you can view them. The January coupons will run from January 5th through January 29th. Another Costco flyer that is on the smaller side. The Costco February 2017 Coupon Book will run from February 16th through March 12th. If you'd like to be notified as soon as we post the latest coupons you can sign up for our email list, or Like us on Facebook!
There are some interesting items for sale in the January Costco coupon book. It's that time of year where TurboTax is on sale, and it's a pretty good deal compared to what you'll find elsewhere. We highly recommend the bai Antioxidant drinks if you haven't tried them. As for us, we'll be getting some discounted Carbon Monoxide detectors (did you know they only last 5 years?) We'll also give the Organic Creamy Tomato Basil Soup a try. For January the tire coupon is Michelin.
If you're still looking for the January coupons you must click the link at the top of the post. We've also posted a list of items with their pricing. So which items stand out to you? What are you going to pick up?
FOOD
Bertolli Organic Pasta Sauce 4/24 oz $8.99 – $2.25 = $6.74
Dannon Light and Fit Greek Yogurt Variety Pack 18/5.3 oz $12.99 – $3.50 = $9.49
Fiber One Oats & Chocolate Chewy Bars 48 ct $13.99 – $4 = $9.99
Frito-Lay Oven Baked Chips Variety 30 ct $11.99 – $3.50 = $8.49
GoGo squeeZ Applesauce Variety Pack 20/3.2 oz $10.99 – $2.50 = $8.49
Harry's Organic Creamy Tomato Basil Soup 2/30 oz $9.79 – $2.50 = $7.29
Jif Peanut Butter 2/48 oz $9.99 – $2.50 = $7.49
Jimmy Dean Delights Turkey Sausage Breakfast Sandwiches 12 ct $11.99 – $3 = $8.99
Kirkland Signature Chicken Alfredo $3.99/lb – $3 off per package
Kirkland Signature Chicken Tortilla Soup 2/32 oz $10.99 – $2.50 = $8.49
Kodiak Power Cakes Flapjack and Waffle Mix 4.5 lbs $11.99 – $3.50 = $8.49
Ling Ling Potstickers $10.59 – $2.70 = $7.89
Pierre Signatures Angus Cheeseburgers 8/6.2 oz $13.79 – $3.50 = $10.29
Seeds of Change Organic Quinoa and Brown Rice with Garlic 6/8.5 oz $10.99 – $2.80 = $8.19
Sensible Portions Sea Salt Garden Veggie Straws 25 oz $5.99 – $2 = $3.99
Snack Factory Organic Pretzel Crisps 28 oz $6.89 – $2.30 = $4.59
BEVERAGES
BAI5 Variety Pack 15/18 oz $19.99 – $5 = $14.99
Keurig Brewed Green Mountain K-Cup Pods 100 ct $46.99 – $7 = $39.99
Nescafé Taster's Choice Instant Coffee 12 oz $10.99 – $3 = $7.99
Premier Nutrition Protein Shake Chocolate, Vanilla, or Strawberry 18/11 oz $24.99 – $5 = $19.99
Vita Coco Coconut Water 12/11.1 oz $13.99 – $3.50 = $10.49
HOME
Dyson Ball Complete Upright Vacuum $449.99 – $110 = $339.99
FoodSaver 5480 2-in-1 Vacuum Sealing System $149.99 – $30 = $119.99
Hoover Air Lite Multi-Cyclonic Upright Vacuum $99.99 – $20 = $79.99
Flooring $36.99 – $7 = $29.99
Novaform Serafina 3" Memory Foam Mattress Topper
Twin $99.99 – $20 = $79.99
Full $124.99 – $20 = $104.99
Queen $139.99 – $30 = $109.99
King $159.99 – $30 = $129.99
Cal King $159.99 – $30 = $129.99
NutriBullet Prime Edition $99.99 – $20 = $79.99
PAPER/PLASTIC
Bounty Advanced Select-A-Size Paper Towels 12 ct (#1026681) $19.99 – $3.90 = $16.09
Charmin Ultra Soft Bath Tissue 30 ct (#233453) $21.99 – $4.40 = $17.59
Ziploc Freezer Gallon Bags 152 ct $13.64 – $2.75 = $10.89
Ziploc Freezer Quart 4/54 ct $12.39 – $2.50 = $9.89
Ziploc Sandwich Bags 4/125 ct $9.99 – $2 = $7.99
Ziploc Slider Variety Pack $11.69 – $2.50 = $9.19
80 Quart + 60 Gallon
Ziploc Storage Bag Variety Pack $13.49 – $2.70 = $10.79
52 Gallon + 50 Quart + 120 Snack + 125 Sandwich
CLEANING
all Free & Clear Liquid Laundry Detergent 237 oz (158 loads) $14.99 – $4 = $10.99
Bounce Dryer Sheets 2/160 ct $9.99 – $2 = $7.99
Cascade Complete ActionPacs 90 ct $15.99 – $3.20 = $12.79
Clorox 2 Liquid Stain Remover and Color Booster 112.75 oz / 82 loads $14.69 – $3.50 = $11.19
Downy Fabric Softener April Fresh 170 oz/197 loads $11.89 – $2.40 = $9.49
Palmolive Ultra Original Dish Liquid 102 oz $7.99 – $2 = $5.99
Swiffer Dusters Refill 24 ct $14.79
Swiffer Sweeper Refill 80 ct $15.79
Swiffer Wet Refill 60 ct $15.79 – $3.20 = $11.59 (duster or sweeper refill), $12.59 (wet refill)
Tide Advanced Power HE Liquid Laundry Detergent 170 oz (81 loads) $21.99 – $4.50 = $17.49
PERSONAL CARE/HEALTH
Contigo Ashland 24-oz Water Bottles 3-pack $17.99 – $4 = $13.99
Oral-B Floss Action &/or Precision Clean Replacement Brush Heads 8-Pack $39.99 – $8 = $31.99
Oral-B Pro Care Rechargeable Toothbrushes 2-pack $99.99 – $30 = $69.99
Weight Watchers Digital Glass Scale $19.99 – $5 = $14.99
APPAREL
Felina Ladies' Lightweight Black Legging 2-pk $14.99 – $3 = $11.99
BABY
Huggies Baby Wipes Natural Care Plus $19.99 – $5 = $14.99
Huggies Diapers Little Snugglers Size 2 (174 ct) $37.49 – $7 = $30.49
Huggies Diapers Little Movers Size 3 (198 ct) $42.99 – $7 = $35.99
Huggies Diapers Little Movers Size 4 (180 ct) $42.99 – $7 = $35.99
Huggies Diapers Little Movers Size 5 (150 ct) $42.99 – $7 = $35.99
Huggies Diapers Little Movers Size 6 (120 ct) $42.99 – $7 = $35.99
PETS
Nylabone Natural Nubz Edible Dog Chews 22 ct $12.99 – $4.50 = $8.49
ELECTRONICS
HP ENVY x360 13-y013cl 13.3″ QHD+ Touchscreen 2-in-1 Laptop $1,199.99 – $150 = $1,049.99
7th Gen Intel Core i7 Processor, 16GB Memory, 256GB SSD (Item #1094093)
HP Pavilion 27″ 1080p Touchscreen All-in-One Desktop $1,199.99 – $200 = $999.99
Intel Core i7 Processor, 2GB NVIDIA Graphics, 16GB Memory, 1TB Hard Drive (Item #1094127)
Lorex 16-Channel, 8 Cameras Surveillance System $499.99 – $100 = $399.99
Plantronics BackBeat Fit Bluetooth Sport Headphones $74.99 – $20 = $64.99
Samsung 70″ Class 4K Ultra HD LED LCD TV (Item #9700630) $1,349.99
VIZIO SmartCast Sound Bar Home Theater with Wireless Subwoofer $379.99 – $100 = $279.99
MISC.
Duracell Coppertop Batteries C and/or D 14 ct $14.89 – $3 = $11.89
Duracell 9V Coppertop Batteries 8 ct $15.99 – $3 = $12.99
First Alert Carbon Monoxide Detector $34.99 – $8 = $26.99
First Alert Fire Extinguisher $34.99 – $8 = $26.99
First Alert Smoke Detectors 2-pk $34.99 – $5 = $29.99
AUTOMOTIVE
$70 Off any set of 4 Michelin Tires