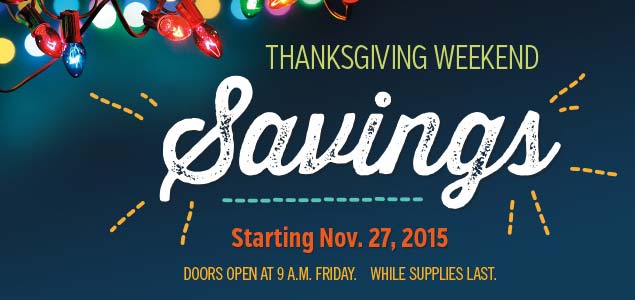 The 2015 Costco Black Friday ad will run the whole weekend from November 27th (Black Friday) through November 29th (Sunday). Clicking the link above will allow you to see all the deals in this coupon book. There is also an online-only sale within it, that goes from November 26th (Thanksgiving) through November 30th (Cyber Monday). The In Warehouse Instant Savings offers are the first 6 pages and the Cyber Monday online deals are the last 3 pages. Also keep in mind the November Costco coupon book will still be running during Black Friday as it is valid through the 29th as well. I've also published a collection of Costco Black Friday Unadvertised Deals I've found that will be running over the weekend.
One of my favorite things about Costco Black Fridays has always been the free cookbook giveaway that's done every year. Unfortunately I've received news that Costco will not be doing the giveaway this year, which gives me much less incentive to stop by on Black Friday.
There are a lot of great deals in this ad scan. To start off with, the Ion Block Rocker is an awesome product, and at $50 off it's a great value. The Fitbit Flex could make a great Christmas present, and at $78 it's about $10 cheaper than everywhere else. The Dyson Cinetic Big Ball Animal+ is a steal at $389 considering the cheapest anywhere else is $599! Lastly, the $10 off pork loin, which makes it around $5/loin is a good value, and an unusual deal for Costco. If you're looking for TV deals you will mostly find them in the Pre-Thanksgiving Savings book. Which items in the Black Friday ad scan are going to make you wait in line in the freezing cold to make sure you get your hands on one?