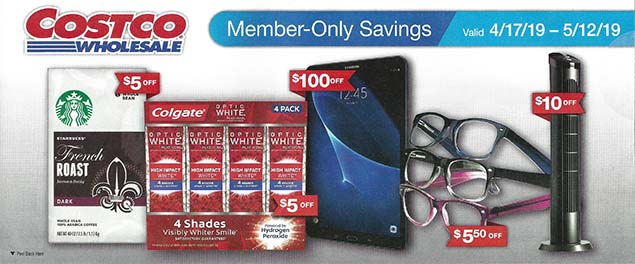 As promised to our loyal readers we now have an early look at the Costco April 2019 Coupon Book. The April 2019 coupons run from April 17th through May 12th. When you click the link above it will show you all the coupons and allow you to click them to enlarge them. Much like last month, this is another long coupon book at 25 pages. We always post a few of the upcoming deals on our Upcoming Costco Coupon Books page, so make sure to check that out too! You can sign up for our email list, Like us on Facebook or Instagram if you'd like to be notified the second we post our early looks at the Costco coupon books!
There are lots of interesting deals we would like to mention in the April 2019 Costco Coupon Book. First of all, the Kirkland Signature Daily Facial Towelettes are absolutely amazing and we highly recommend them. Getting $4 off on them is a no-brainer. There are a few pages of summer items for the backyard such as Scott's Lawn Food at $10 off and Coppertone Sunscreen at $4 off. With allergy season upon us there are a lot of allergy medicines on sale as well. The Costco tire coupon has switched back to $70 off Michelin this month.
For those of you who have trouble finding the coupon book you need to follow these steps. First of all make sure you go to the page linked here, the Costco April 2019 Coupon Book page. Then, you click the link in the very first sentence on the page. If that doesn't work you can also go here. Leave a comment letting us know if you'll be grabbing anything in this months coupon book and if so, which things.